ul. Rzemieślnicza 33, Mała Nieszawka K/Torunia, 87-103 Mała Nieszawka

, Poland
Commercial Registry (KRS) data:
Legal form

Registration date

2003-01-28

Establishment Date

2002-12-02

| | |
| --- | --- |
| Sławomir Gondek | |
| Marta Magdalena Sobolewska Szeląg | |
Information about the company
Did the company VITAL SPÓŁKA JAWNA GONDEK achieve good results?
Share this information with your business partners and thousands of users of crefo.pl!
How to do that?
Order the solvency assessment of your company and get the prestigious solvency certificate and show it to your business partners and thousands of users of crefo.pl .
All the clients who order the solvency assessment will obtain:
1) The complete report on the company including the solvency index and probability of default
2) The solvency certificate in three languages (Polish, German and English) if the solvency of the company is assessed as: excellent, very good or good.
a) Three copies in png format
b) Six banners of various sizes to be placed at the website with a link leading to the certificate displayed on crefo.pl (example)
The benefits of having the certificate:
strong position in negotiations with business partners

increase of the prestige of the company thanks to the international scope and recognition of the certificate

confirmation of the good condition of the company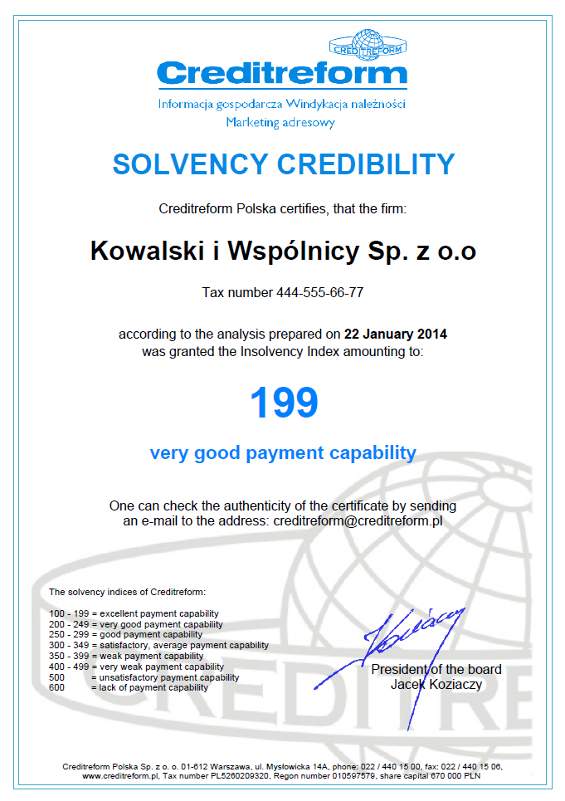 This is the place for references of the company VITAL SPÓŁKA JAWNA GONDEK
- jeżeli jesteś właścicielem lub pracownikiem tej firmy i chcesz w jej imieniu poprosić o referencję swojego klienta lub kontrahenta (każdą firmę na crefo.pl), to kliknij w link "poproś o referencje" i postępuj według dalszych instrukcji.
- jeżeli jesteś kontrahentem, klientem tej firmy lub masz/miałeś z tą firmą jakiekolwiek doświadczenia handlowe, to możesz udzielić jej referencji. W tym celu kliknij w link "udziel referencji" i postępuj według dalszych instrukcji