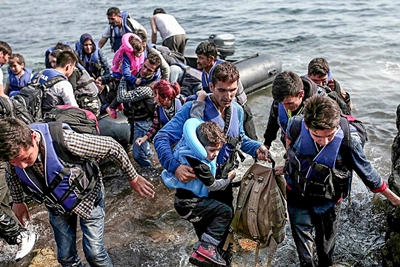 Zgodnie z nowym wskaźnikiem Migrant Acceptance Index firmy Gallup wiele państw europejskich należy do najmniej chętnie akceptujących imigrantów krajów świata. To oczywiście pokłosie ostatniego kryzysu imigracyjnego. Dziewięć z 10 krajów, które uzyskały wynik na poziomie 2,39 lub mniej (z możliwych 9,0), to dawne państwa radzieckie - najczęściej zlokalizowane na Bałkanach. Izrael, który zajmował się własnym napływem osób ubiegających się o azyl z Afryki w ostatniej dekadzie, jest jedynym krajem spoza Europy, którego wyniki są niskie.
NAJMNIEJSZA AKCEPTACJA IMIGRANTÓW

NAJWIĘKSZA AKCEPTACJA IMIGRANTÓW

MACEDONIA

1,47

ISLANDIA

8,26

CZARNOGÓRA

1,63

NOWA ZELANDIA

8,25

WĘGRY

1,69

RWANDA

8,16

SERBIA

1,80

SIERRA LEONE

8,05

SŁOWACJA

1,83

MALI

8,03

IZRAEL

1,87

AUSTRALIA

7,98

ŁOTWA

2,04

SZWECJA

7,92

CZECHY

2,26

NIGERIA

7,76

ESTONIA

2,37

BURKINA FASO

7,74

CHORWACJA

2,39

IRLANDIA

7,74
Źródło: Gallup World Poll
Firma Gallup utworzyła indeks akceptacji migrantów, mający na celu ocenę akceptowania przez ludzi migracji w oparciu o rosnący stopień osobistej bliskości. Indeks oparty jest na trzech pytaniach, które firma Gallup zleciła w 138 krajach w 2016 roku i USA w 2017 roku.
Uśredniony wynik indeksu akceptacji migracji dla świata wynosi 5,29. 77 krajów osiągnęło wynik wyższy niż ta średnia, a 61 punktów niższy. Większość na całym świecie (54%) uważa, że przyjmowanie imigrantów jest rzeczą dobrą. Nieznacznie mniej - ale nadal połowa, na poziomie 50% - mówi, że chętnie zgodziłaby się na to, aby imigrant stał się ich sąsiadem, a 44% twierdzi, że nie miałaby nic przeciwko wejściu uchodźcy do bliskiej rodziny.
Osoby z krajów Europy Wschodniej, które najmniej akceptują ogółem migrantów, są również najbardziej zdecydowanie przeciwne przyjęciu syryjskich uchodźców w swoich krajach. Co najmniej połowa dorosłych w siedmiu spośród najmniej akceptujących krajów uważa, że ​​ich kraje nie powinny przyjmować uchodźców. W Macedonii, na Węgrzech i Czarnogórze, krajach o najniższym wskaźniku akceptacji migracji migrantów na świecie, co najmniej dwie trzecie twierdzi, że ich kraje nie powinny wpuszczać syryjskich uchodźców. Istnieją jednak dowody, że ludzie w tych krajach - z których wiele ma długą historię konfliktów z sąsiadującymi krajami - byli już wcześniej skłonni podejrzewać osoby z zewnątrz, a napływ uchodźców dodatkowo wzbudził te postawy. Nawet przed kryzysem większość z całej Europy Wschodniej stwierdziła, że ​​poziom migracji w ich krajach powinien zostać zmniejszony. To samo dotyczy Izraela.
W przeciwieństwie do krajów najmniej akceptujących, które są geograficznie i kulturowo skupione, najlepiej nastawione do uchodźców kraje znajdują się w odmiennych częściach globu. Dwa najchętniej przyjmujące imigrantów państwa nie mogły być chyba położone dalej od siebie - Islandia uzyskała wynik 8,26, a Nowa Zelandia - 8,25. Jednak wspólnym wątkiem, który łączy wiele krajów najbardziej akceptujących, jest ich długa historia jako krajów przyjmujących migrantów.
Akceptacja dla uchodźców wzrasta wraz z wykształceniem. Osoby z co najmniej czteroletnim stażem nauki po ukończeniu szkoły średniej lub z wyższym wykształceniem są nastawione zdecydowanie przychylnie ze średnim indeksem 5,67. Osoby z najwyższej grupy dochodowej o wartości 20%, które również mają większe szanse na wykształcenie wyższe, również wyróżniają się akceptacją imigrantów w porównaniu z grupami niższych dochodów. Również mieszkańcy obszarów miejskich częściej ich przyjmują, w przeciwieństwie do mieszkańców obszarów wiejskich.